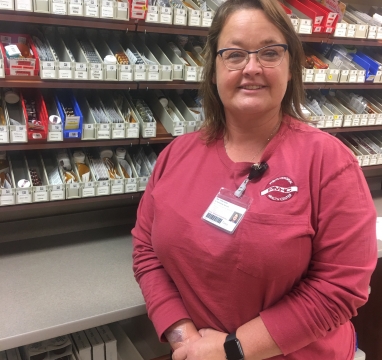 Phelps Memorial Health Center is pleased to announce that Tonja Hawley, Pharm. D., RPh, has been hired as a pharmacist.   She completed her undergraduate studies Colorado State University and received her Doctorate of Pharmacy from the Southwestern Oklahoma State University, Weatherford, OK, in 2007. 
Dr. Hawley brings a great deal of experience to Phelps Memorial. She has previously worked as a Clinical Pharmacy Services Coordinator at Great Plains Health in North Platte and well as a pharmacist for Comprehensive Pharmacy Service in Texas.
She stated, "I believe in providing safe, friendly and trust worthy care to our patients."  She added, "Being able to provide quality care close to home is important to me.  I look forward to working with our team to serve our patients and community."
Dr. Hawley joins Pharmacy Leader Tyler Fries, Pharm D, RPh, and pharmacists Kelly Hamilton, Pharm D, RPh, Mary Kuck, Pharm D, RPh, and Heather Ockinga, Pharm D, RPh.