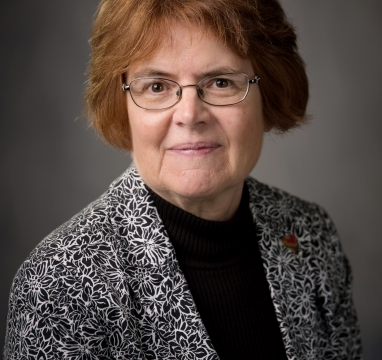 Leora Smith, RN, retired after 44 years of service at Phelps Memorial Health Center.
Mrs. Smith, Holdrege, said, "I can't think of a better place to have had my career.  I've had great opportunity because so many believed in me."
Mrs. Smith has been Phelps Memorial's Chief Nursing Officer for the past nine years, but has served in multiple positions at PMHC over the years. In 1976, Leora began as a staff nurse, but soon became a charge nurse.  This followed by positions as a unit manager, RN supervisor and day manager.  After this she served as the Clinical Analyst and Clinical Project Manager for Meditech which led to her position as Information Systems Leader. Following this, Leora was the Health Information Management and IS Leader before she took on the role of Compliance Officer. Leora then served as the Chief Information Officer before her promotion to Chief Nursing Officer in 2011. 
Dr. Stuart Embury, retired physician, told those in attendance at her retirement party, she was "one of the greats."  Although he joked about some light-hearted and fun moments over the years, he said "Leora is known for her integrity, compassion, and caring but most of all her expertise and medical knowledge."   
He noted that especially in the time of the Covid crisis we should lean into gratitude. He said, "Today we gather to show our gratitude to Leora for her dedication and leadership to our hospital."
Mark Harrel, PMHC CEO, said, "Leora has been a true blessing to Phelps Memorial and their patients.  Passion and commitment to provide the best care was never doubted with Leora at the helm."
He said she's "truly one of the best in the business and will be missed."  
Mrs. Smith has had some big moments over her career at Phelps Memorial including her role in the implementation of a computerized system. She noted that another was being a part of a great team that brought orthopedics and spine care to the hospital.
Loren Schroder, Chief Financial Officer, began working with Mrs. Smith in 1996.  She was in nursing and he was in accounting, they joined forces for the hospital's new computer system implementation in the mid-90's.  At that time there was no IT department at the hospital and neither of them had experience in computer systems implementation, but they were determined to learn.  He recalled everything at that time was manual entry with no computer systems and they both took "a lot of heat."  He noted they had physicians wondering "How could we take our best charge nurse from the floor to play around with these computers that they were never going to use anyway?"   
The Meditech clinical implementation was a monumental challenge but turned out to be a great success and huge leap forward for PMHC.  Mr. Schroder said that Mrs. Smith was amazing in leading that effort and that it was just the beginning of the great things she would go on to accomplish at Phelps Memorial. 
He said, "I honestly can't think of another person who has had the impact and influence on what PMHC has become, more than Leora has."
What advice does a 44-year veteran nurse leave to her team? Mrs. Smith said, "Always, always communicate with your patients about their treatment plan and be an educator."  She added, "Almost always it's the little things that make the difference to our patients."
Mr. Schroder shared the lyrics from Mrs. Smith's favorite song from the LEGO movie at the retirement party,
Everything is awesome, everything is cool when you're part of a team. 
Everything is awesome, when you're living out your dream.
Mr. Schroder then thanked her for making Phelps Memorial the awesome place it is today.