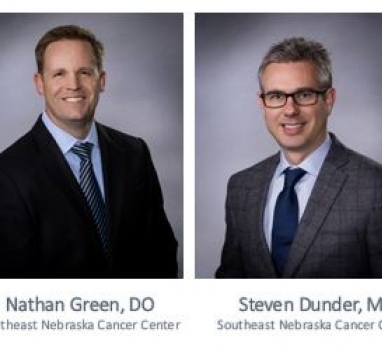 Phelps Memorial Health Center has announced they are expanding oncology and hematology services to continue to meet patient needs in the area.  Two medical oncologists, Dr. Nathan Green and Dr. Steven Dunder from Southeast Nebraska Cancer Center (SNCC) of Lincoln, will partner with the PMHC oncology team to provide outreach services in Holdrege beginning August 19.
Both physicians are board certified in medical oncology and have a wealth of experience and knowledge to enhance the continuum of care and services provided by Phelps Memorial Health Center.
Mark Harrel, PMHC Chief Executive Officer, stated, "We are looking forward to this new opportunity and partnership with Southeast Nebraska Cancer Center."  He added, "With this addition we will be able to provide services for additional oncology and hematology patients needing care right here in Holdrege." 
Dr. Steven Dunder attended the University of Nebraska-Lincoln for his undergraduate degree and received his Doctor of Medicine at the University of Nebraska Medical Center in Omaha. He completed his residency in internal medicine at the University of Texas Health Science Center and his fellowship in hematology and oncology at the Medical Center of South Carolina. He is board certified in hematology and oncology.
After graduating from the University of Osteopathic Medicine and Health Sciences in Des Moines, Iowa, Dr. Nathan Green completed an internship and residency in internal medicine at the University of Texas, followed by a two-year fellowship in medical oncology at Baylor University in Texas. Dr. Green is board certified in internal medicine and medical oncology.
Through the partnership with SNCC, the Phelps Memorial Health Center oncology team will also provide genetic counseling, nutrition services, palliative care via telemedicine in Holdrege. In addition, SNCC will offer around-the-clock on-call services for oncology and hematology patients.
"We are excited to be a part of the oncology team at PMHC. I grew up in Nebraska and it is important for me to extend quality oncology care to Holdrege and the outlying communities," said Dr. Dunder.
Tracie Elliott, Senior Vice President of Ancillary Services for PMHC, stated, "We have a dedicated team committed to offering the best treatment available. The addition of Drs. Dunder and Green allows our patients to receive high-quality cancer care in a compassionate environment close to home."
The SNCC oncologists will join Stacey VanBoening, APRN, who serves oncology and hematology patients on a day-to-day basis in the Phelps Medical Plaza.
Stacey VanBoening, APRN, stated, "I am extremely excited to partner with Drs. Dunder and Green to care for our patients here in Holdrege. It is wonderful to provide the highest quality of care in an environment that feels like home with people who treat you like family."