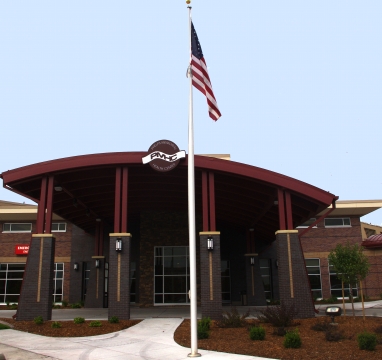 The Centers for Medicare & Medicaid Services (CMS) has released its latest hospital ratings and Phelps Memorial Health Center, Holdrege, Nebraska, received a five-star rating.  The five-star rating is the highest given by CMS, which evaluates hospitals annually using more than 100 measures divided into seven categories; mortality, safety of care, readmission, patient experience, effectiveness of care, timeliness of care and effective use of medical imaging.
Leora Smith, Chief Nursing Officer, explained that this CMS star rating indicates Phelps Memorial Health Center's desire to maintain high quality and that the team focuses on patient care and the patient experience.   
"This achievement is a result of the efforts of each and every one of our employees," Mrs. Smith said. "It is a true reflection of how dedicated the Phelps Memorial team and the medical providers in our community are to our patients, our hospital, and our community."
Phelps Memorial is one of five hospitals in the state of Nebraska to earn the five-star quality rating. CMS's Hospital Compare website reports on quality measures for more than 4,500 hospitals across the United States.  Nationwide, there are 407 five-star hospitals.  
"The CMS 5-Star rating is tremendous. Five stars means Phelps Memorial is performing at the highest level for patients who entrust their care to us," said Mr. Harrel, CEO at Phelps Memorial Health Center. "We're proud of this achievement, and we congratulate every teammate who helps make Phelps Memorial the hospital that it is."
He added, "Our team is driven by a culture that includes integrity, dedication, teamwork, and compassion."
The rating shows how well each hospital performed, on average, compared to other hospitals across the country.  A breakdown of the 2019 ratings includes:
One star: 228 hospitals
Two stars: 710 hospitals
Three stars: 1,191 hospitals
Four stars: 1,136 hospitals
Five stars: 407  hospitals
"It is extremely important to us that we provide exceptional care for this community," added Mrs. Smith. "We are thrilled with this designation because it shows our staff's commitment to making our patients' experience a great one." 
The Hospital Compare website and star rating system are valuable consumer tools that provide helpful and important information on the safety and quality of our nation's hospitals.
"Phelps Memorial is continually reviewing and improving our processes," said Tesha Broadfoot, Quality Leader. She added, "We have made a commitment to ensure our patients are receiving the best possible care while keeping safety a priority in our facility.   This 5-star rating is a great validation of our efforts."
Phelps Memorial Health Center is a 25-bed Critical Access Hospital and a 501(c)(3) non-profit corporation governed by a diverse 13-member Board of Directors that serve to represent the interests of the patients, the community at large, the members of the medical staff and the employees in the development of the organization and the pursuit of its mission. Visit www.PhelpsMemorial.com or contact us at 308.995.2211 for additional information.