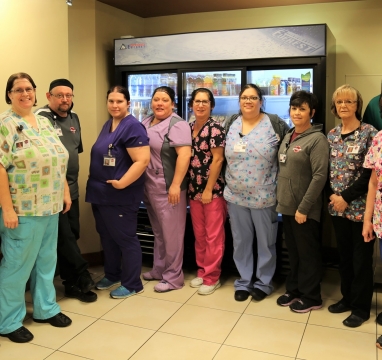 There is always something good to eat in the Terrace Café!  And the best part – I don't have to cook it!  For most employees, 2 out of 3 meals per day are eaten at Phelps Memorial Health Center's Terrace Café. 
The staff in the Food and Nutrition Services department led by Guest Services Leader, Crystal Swearingn, and supported by Dietician Karen Bunnell, are always changing it up to bring variety and good choices to our patients, visitors, staff and the community who come to enjoy the food and the atmosphere.  Included in that community are 15-20 students from Holdrege High School who choose the Café for lunch each day!  Price, choices, taste, speed and friendly atmosphere are among the many reasons these young adults choose PMHC.  Smart kids!
The lunch menu alone includes a salad bar, a soup each day, 2 hot entrees with all the fixings, grilled chicken and hamburgers daily, and a cold case for grab and go.  Not to mention the selection of desserts!  To say we are spoiled is an understatement. 
Special orders are often filled for patients who seek variety.  Most recently, Brad and Hayley whipped up some Swedish pancakes for a patient with a craving, and one patient asked not to be released until after supper because he loved Jodi's pizza and didn't want to miss it!
It's not just the cooks who make the Café a hot spot!  Our hosts and hostesses ensure the patients are well fed, and cared for, and the Café staff take great care of our patients and visitors and keep things looking appetizing! 
Food and Nutrition Services staff as pictured:  Karen Bunnell, Jodi Wood, Brad Beck, Hayley Durgan,  Kristen Barlovic, Diane Sowden, Rachel Peterson, Deb Snyder, Cookie (Shirley) Bradley, Jeff Enquist, and  Judy Steinbrink.  Not pictured:  Jessica Blair,  Samantha Martenson, Sherri Silver, Crystal Swearingen and Jillian Ziebarth.