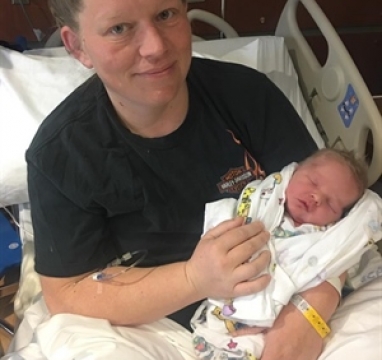 The due date for Crystal and Ben Meyer's fourth child was March 9, 2019.  But, their baby boy came a little sooner than expected. Crystal gave birth to her son on the side of the road while family was driving her to the hospital.
Crystal says she had contractions on and off throughout the day, but didn't think the birth would happen quite so quickly.  Her husband left for work at 4:45am. At 6:00am she called her parents and told them it was time to head to the hospital.  Soon thereafter, she was headed to the hospital on Highway 6 & 34 from her home in Stamford.  She was with her sister, Amanda Dowell, and father, Chris Milam, on the way to Kearney where the delivery was expected to take place.  When they were enroute to the hospital they quickly realized they weren't going to make it.
"Even though I had contractions earlier in the day, I was just in denial," said Crystal.  She added, "When we got to Oxford we pulled over and my sister called 911."
They continued the drive and half way to Holdrege, NE, her water broke which led to a speedy delivery.
"My sister was talking to the paramedics and they were asking questions and I just remember saying this baby is coming," said Crystal.
A healthy Ezekiel Norman Meyer was born on mile marker 141 on US Highway 6 and 34 at 6:55 a.m. Friday, March 8. He weighed in at 8 pounds, 6 ounces.
"My sister was in the back seat.  She jumped over the seat and literally grabbed his leg before he hit the floor board," stated Crystal.
The Phelps Memorial Health Center ambulance crew arrived on scene moments after Ezekiel entered the world.  They then transported mom and baby to Phelps Memorial Health Center.
"I'm still in shock. I was in labor 36 hours with my third child so I was not expecting this at all."
Baby Ezekiel has three siblings: Josh, 17, Brystol, 5, and Jeremiah, 1. The family looks forward to telling him the story of how he came into this world when he's a bit older.