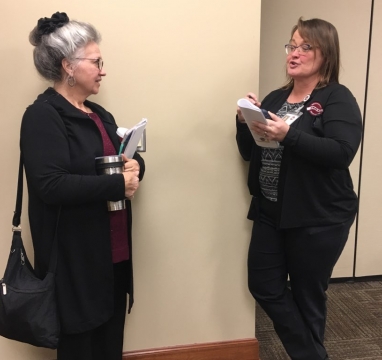 Holdrege community members learned about diabetes and optimizing diabetes control from Tonja Hawley, Pharm D, RPh.  For people with diabetes, having too much glucose (sugar) in their blood for a long period of time can cause serious health complications.  Dr. Hawley, a pharmacist at Phelps Memorial Health Center, reviewed the history of glucose monitoring, insulin delivery and advancements for diabetes control.   
Dr. Hawley is a type 1 diabetic herself. She gave an overview of the progress in medicine since she was diagnosed at age 11.
She said, "Living with diabetes is not easy.  It is with you 24/7/365.  You don't get a break, your family doesn't get a break, and there are no vacations (from the disease)."
Type 1 Diabetes affects approximately 3 million Americans. Each year more than 15,000 children and 15,000 adults (80 people per day) are diagnosed with type 1 diabetes.  The rate of type 1 diabetes incidence among children under 14 is estimated to increase by 3% annually worldwide.
Type 1 diabetes is a chronic condition in which the pancreas produces no insulin.  She said that it wasn't until about the 1920s that modern medicine took its first leap in progress against the disease when Grant Banting and Charles Best received a Nobel Prize in medicine for discovering insulin and its therapeutic potential. The first successful treatment with insulin was in 1922. Rapid acting insulins were developed in the early 2000s. Now many pumps and monitoring systems are available for diabetics. 
As technology progresses, portable glucose monitoring systems are becoming more available. It is important that all diabetic patients are engaged with their providers to determine what options are best for them.
She said, "Regulating blood sugar is what we all strive to do.  Everyone wants to avoid complications."  She indicated that continuous blood glucose meters (CGMs) are a tool for both type 1 and type 2 diabetics to do just that.
CGMs are excellent for patients who need intensive insulin therapy (tight blood sugar control).  For patients who have hypoglycemia unawareness, and those who frequently have high or low blood glucose fluctuations, CGM's are a very effective in reducing adverse effects.
During the program, Dr. Hawley told attendees benefits of a continuous glucose monitor can include:
better management of glucose levels every day

fewer low blood glucose emergencies

fewer finger sticks
Speaking from personal experience she said, "It really does help you manage your blood glucose levels every day. You will have fewer low blood glucose emergencies." 
Dr. Hawley stressed that one of the most important things is your healthcare team.  She said this can include everyone from your primary care provider, diabetic educators, dieticians, and pharmacists to endocrinologists/diabetes specialists or other advanced specialists. 
She thanked nondiabetic participants for attending as well.  "Having a strong personal support system (family, friends, and caregivers) is extremely important for your success in managing this disease," she said.