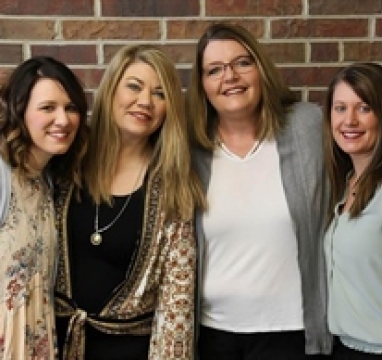 Effective communication is the backbone of success. The Marketing Team at Phelps Memorial Health Center is well-versed in the art of communication. Together, they all work to educate our community, customers and teammates about the amazingly compassionate team at Phelps Memorial and Phelps Medical Group.
With a team tenure of over 30 years, they are the communication hub for the organization. Together, they manage:
marketing, advertising and communications strategies;
public relations;
community education, support and outreach;
volunteer members of the Phelps Memorial Service League;
corporate education;
medical and nursing students;
customer experience;
internal communications; and,
parties and events fit for rock stars (aka, Team Phelps).
Members of the team are Lacie Westcott, team leader and Director of Marketing and Business Development; Keri Berry, Director of Public Relations and Education; Linda Fecht, Marketing and Education Coordinator; and, Farren Nelson, Executive Assistant.
Lacie Westcott, member of Team Phelps since 2010, is constantly seeking ways to increase knowledge and enhance her communication and leadership skills, "every day is an opportunity to learn something new, spread wisdom and be creative. Honesty and integrity are the core values that drive my personal brand." With over 16 years of marketing and communications experience, she holds a master's degree in Integrated Media Communications from the University of Nebraska-Lincoln.
Keri Berry, teammate since 2001, has a driving passion for service excellence, "I want all who walk through our doors to be treated like family. I strive to make a positive impact on those we serve and do my part through public relations and education to inform customers of not only our services, but of the amazing people we have working here," she stated. Keri holds a bachelor's degree in Journalism and Mass Communications from the University of Nebraska-Lincoln with minors in English, marketing and sociology.
The Marketing Team is charged with enhancing the customer experience through education and customer service training. Linda Fecht, teammate since 2015, is passionate about sharing her knowledge and expertise through formal training programs with new members of Team Phelps, including the newly formed Team Phelps Book Club. "Simply put, I just want people to be happy; and, it brings me joy to do my part to help them," she stated when asked about her care philosophy. Linda holds a bachelor's degree in social work from the University of Nebraska at Kearney.
Farren Nelson is the communications liaison. With over 10 years of administrative healthcare experience, she works closely with the senior leadership team to keep the lines of communication open between, medical staff, board of directors and every member of Team Phelps. "I believe that you do what you love and love what you do. Looking forward to coming to work every day with a positive attitude and smile on my face makes me know that I am in the right place with the right people to make me successful at my job," she stated. Farren holds an associate's degree in office technology with a medical focus from Southeast Community College.