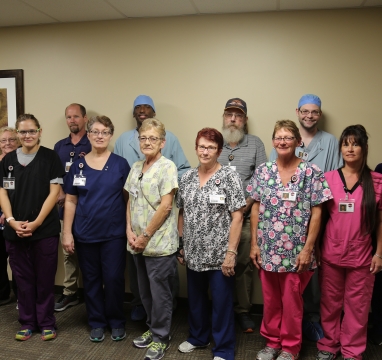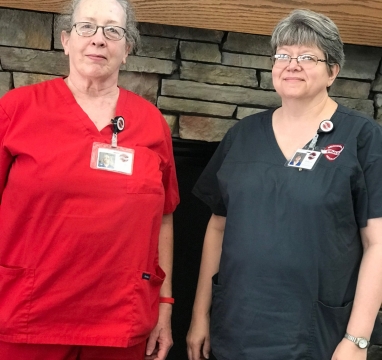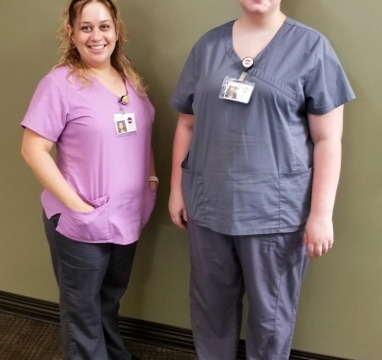 It's Environmental Services Week. 
We could give you statistics, and all sorts of facts about the importance of cleanliness in the healthcare setting, but you probably already know that. 
Our EVS staff do too – they take keeping things clean at Phelps Memorial Health Center's properties very seriously.  They are really good at it, in fact, they are killing it!  Germs that is.
"The EVS staff are the behind the scenes heroes.  They are as critical to a healthcare facilities survival as rainfall is to the health of a forest" says Crystal Swearingen, Guest Services leader. 
For this team, every single person that enters our facility is a customer, from our visitors and staff to our vendors, and patients.  That's a lot of people to please, but they are up to the challenge. 
Paula Keffeler, and Renee Schulz in the Imaging department agree, "The EVS team adds so much to the patient experience in Imaging.  Patients comment often about how clean the hospital looks."
There's never a day, no matter how many EVS staff are working, that the safety of our guests is compromised.  The men and women that make up the EVS team understand the importance of their role at Team Phelps, and work together to ensure that the facility maintains the high standards that are expected in healthcare.
As employees, we are grateful for their attention to detail.  "Our facility is a big source of pride for a lot of people, and it is because of the way it is maintained day in and day out.  Thank you for all your hard work cleaning, disinfecting, and keeping our facility beautiful."  Lisa Harvey, HR Specialist
Thank you Aaron Penny, Becky Hix, Betty Newton, Carol Snyder, Christopher Edwards, Danny Sheen, Debra Barlovic, Denise Heathers, Denise Rose, Jerry Eagleburger, Lizbeth Medina-Lara, Luz Salgado, Mary Palmer, Mary Wood, Pat Sheneman, Randi Hamilton, Ray Dawson, Rhonda Kogl, Susan Fries, and Sidney Heinen.