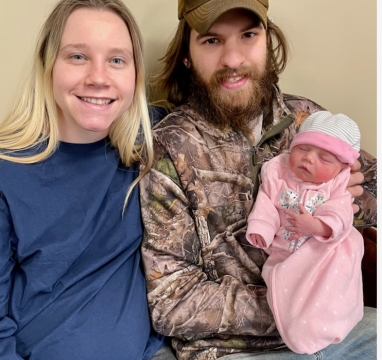 A baby girl weighing seven pounds and one ounce was the first newborn of the year delivered at Phelps Memorial Health Center.
Zayleigh Wayne Sikes was born at 11:17a.m. on January 10, 2021.
Zayleigh's parents, Brittany Hollister-Berry and Benson Sikes of Orleans, were surprised she was the first. 
"She was born on her due date," said Brittany, as her beautiful baby slept soundly. "It was a great experience at Phelps Memorial." 
The couple stated that "We've been trying for a baby for four years." Brittany added that her middle name is in honor of Benson's grandpa Wayne who passed away this past year.
Baby Zayleigh was delivered by Charlotte Wirges, M.D.
The family was showered with gifts for being the first baby of the year. She received gifts from Phelps Memorial and a "Star Is Born" silver medallion that will be placed on the wall near the Phelps Memorial Health Center nursery.  They also received a pack and play from the Phelps Memorial Service League.
"It's exciting," the couple added. "It's a nice start to 2021."