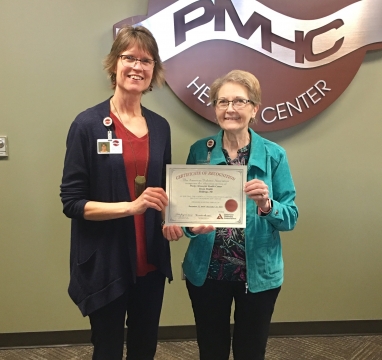 The American Diabetes Association (ADA) announced successful recertification of the Phelps Memorial Health Center Diabetes program through the Education Recognition Program. Phelps Memorial has been a recognized ADA program since 2000.  Phelps Memorial Health Center is one of 21 sites across Nebraska affiliated with the Bryan Health Diabetes Center.
This certification assures educational services meet the national standards. It also pledges that programs have knowledgeable health professionals who provide patients with comprehensive information about diabetes management. 
Jenny Spaulding, RN, CDE, and Karen Bunnell, RD, LMNT, both serve patients through Phelps Memorial Health Center's diabetes education program. 
"Daily self-management skills are absolutely essential for people to effectively navigate the 24/7 challenges of living with diabetes, helping to keep them healthy and prevent or delay the serious complications of diabetes, said Linda Cann, MSEd, the ADA's senior vice president of professional services.  "We applaud Phelps Memorial Health Center for its commitment to providing high-quality, evidence-based education and support for people with diabetes by meeting the National Standards for DSME/S and earning the ADA's ERP recognition."   
According to the Centers for Disease Control and Prevention's (CDC's) Statistic Report there are 30.3 million people or 9.4% of the population in the United States who have diabetes.  While an estimated 23.1 million have been diagnosed, unfortunately, 7.2 million people are not aware that they have this disease.
"I'm thankful Bryan Health initiated this program in the late 90's.  We've helped hundreds of patients young and old in various diagnosis and stages of diabetes throughout the years," said Mrs. Spaulding.  "Our goal is to prevent complications of diabetes and help our patients to better understand diabetes management on a day to day basis."  
The Phelps Memorial Diabetes Program helps patients understand diabetes and support them through lifestyle changes, nutrition, exercise, carbohydrate counting, medications, insulin pump use and more.
"Education is a powerful tool we can provide to our patients. It gives them an active role in their own health and I'm proud to be a part of that," said Karen Bunnell, RD, LMNT.
If you have or are at risk for prediabetes, taking action now can delay or prevent type 2 diabetes. Call 308-995-2848 to schedule an appointment. They will coordinate any referrals needed with your doctor.