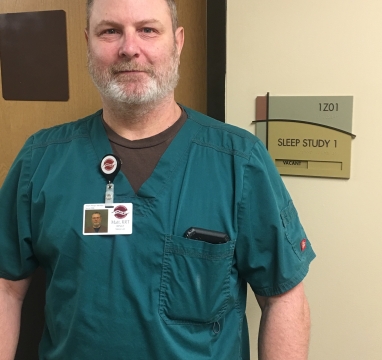 Phelps Memorial Health Center proudly announces it has achieved accreditation through Accreditation Commission for Health Care (ACHC) for their Sleep Study program.
Accreditation is a process through which healthcare organizations demonstrate compliance with national standards. Accreditation by ACHC reflects an organization's dedication and commitment to meeting standards that facilitate a higher level of performance and patient care.
A sleep study is a non-invasive, overnight exam that monitors breathing, heart rate, and oxygen levels while a patient sleeps. Sleep Studies are performed three days a week at Phelps Memorial Health Center and are performed both in-house and in-home settings.
Matt Govier, LRCP, RPSFT, registered polysomnography technician, performs the tests which are done during normal sleep hours in a quiet comfortable room free of distraction.
Left untreated, sleep disorders can cause serious health conditions.  Sleep studies can help your physician diagnose numerous sleep-related disorders.
"We are so very proud of our sleep lab program and our sleep technician Matt Govier for all his continued hard work.  The accreditation process takes time and effort not just on accreditation day, but throughout the entire year," said Kylie Christensen, RRT, Director of Cardiopulmonary Services. "This accreditation demonstrates our ongoing commitment to providing quality patient care."
For more information on the sleep study program, please visit www.PhelpsMemorial.com, or contact us at 308.995.2211.