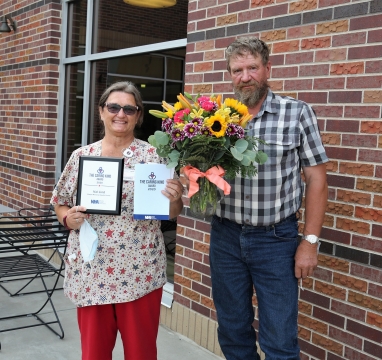 Val Lind, RN, was recently selected as the winner of the Caring Kind Award at Phelps Memorial Health Center.
For 40 years, The Caring Kind award has been given to Nebraska's most caring and compassionate hospital employees.
The Caring Kind Award is an honor through the Nebraska Hospital Association (NHA) that recognizes health care employees who have risen to the top by providing service excellence and dedication to their profession. Award recipients commit themselves to the betterment of their hospitals, their customers, their co-workers and their communities.   
Val is a 25-year veteran nurse and Certified Lactation Consultant at Phelps Memorial. Although her passion is supporting breastfeeding moms, she works in all areas of the hospital including med/surg, Specialty Care Unit, Emergency Room, and OB.  Using touch as a key nursing element; she will hold patients hands, comfort them, always letting them know that she is there for them.  Giving back rubs is something she learned in nursing school and has never given up in her nursing career. 
Lori Fuller, RN, Director of Nursing, said, "She is not only great with patients, she is also an advocate and dear friend to her co-workers. She checks on them at home, if they had surgery or have been sick and sends prayers to them for healing."
"Patients can see her respect and love for her co-workers and praise her for her work," said Lori.
As a Team Phelps Champion, Val serves as a frontline leader, modeling the high standards of behavior expected at Phelps Memorial, and coaching and mentoring other employees to be amazing.