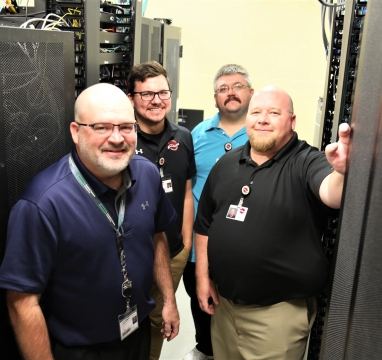 The Information Systems Department (IT) plays a crucial role in the success of Phelps Memorial Health Center.  While they may not be on the front line serving patients, they truly serve everyone in one way or another.  Their department, monitors and maintains information technology systems and services throughout the hospital and medical clinics.
The clinical and ancillary systems required at Phelps Memorial are essential and can literally be a matter of life or death if they stop working effectively.  The IT team has built and maintained a system to help physicians and clinical staff to provide the best care and support for patients and families.
The IT Department is responsible for the following areas:
Network Security - including firewalls, web filtering, email encryption, file encryption, switching, and malware/virus protection.
Software – Meditech, Merge PACS, Epiphany, interface engines, Microsoft Office products, various Microsoft operating systems, VMWare for servers and Virtual Desktop Infrastructure (VMWare Horizon View), closed circuit camera systems, phone systems, door access systems, temperature monitoring and email.  This is a small sampling of the software that the department implements and maintains.
Hardware – desktop PC's, laptops, zero clients, servers, phones, printers, copiers, TVs, digital monitors, closed circuit cameras and door access. 
 Help Desk - Support over 500 end users across 3 hospitals and 6 clinics
Connections to other supporting facilities throughout the state. 
In addition, they performs the usual tasks of an IT department such as providing network infrastructure, IT security, server maintenance, software deployments and so on. They also are responsible for desktop support and running the help desk.
Kody Urwiller, Computer User Support Specialist, has a bachelor's degree in Telecommunication Management.  He specializes in working on the Phelps Memorial Intranet and systems backups.  Kody provides help desk support to all facilities and helps troubleshoot end user issues. He's also the person who creates new users and getting permissions setup. 
Kody claims his favorite part is helping others in the building with computer problems and other related issues including work orders relating to the phones, printers, cameras, computers, and more.  Kody is currently working on his certifications for Microsoft technologies.
He said, "I know how frustrating technology can be especially when it involves your job. He added, "I love working with the people here and find that our model for compassionate care also extends to helping others who work in the building as well" 
Cory Benson, Computer Specialist, has a bachelor's degree in Telecommunication Management and an A+ certification.
Cory specializes in computer hardware and help desk support.  He maintains the "physical" portion of the computer systems.  He has a knack of figuring out creative ways to use technology Phelps Memorial has to accomplish what is needed.  He is currently working on his certification in Microsoft technologies. 
"I'm here to make everyone's job better or less stressful by helping with the tech side of things," he stated.
Nate Bennett, Network Engineer II, has a bachelor's degree in Business Administration with an emphasis in MIS.  Nate holds certifications in Cisco, Microsoft, A+ and VMWare technologies. 
Nate is responsible for implementing and maintaining VMWare View, network security, firewalls, switching, servers, storage, project management and performs general software support.  Nate also pitches in to help his colleagues on end user issues.  He spends much of his time working behind the scene to ensure our data is accessible to end users and safe from hackers.
Nate thrives on troubleshooting critical network infrastructure and VMware systems. His work affects many of the enterprise systems at Phelps Memorial as well as offsite access for other facilities. He also implements new projects and technologies at Phelps.
"I strive to deliver reliable and secure infrastructure," stated Nate. He added, "The technology systems at Phelps are complex and intertwined throughout our network.   We have grown leaps and bounds with the amount of equipment and software supported in the last 3 years."  
IT Leader, Andrew VanCampen, has a bachelor's degree in Business Administration with an emphasis in MIS.  Andy holds certifications in Microsoft and A+ technologies.
Andy is responsible for all of the information systems at Phelps Memorial.  He is also responsible for researching new technologies, purchasing hardware and software solutions, project management, collaborating with supporting facilities and maintaining numerous vendor relationships.  Andy works primarily behind the scene to ensure patient information is secure, information systems are running smoothly and response times to issues are kept to a minimum.   He also serves as the HIPAA Security Officer for Phelps Memorial.
Andy said, "Our mission is to provide timely, friendly service to those we serve.  Information Technology is one of the foundations in our ability to deliver exceptional quality and compassionate care at Phelps Memorial."  He added, "We strive to provide the most current technology so that our patients can receive the best care possible."
There has been explosive growth in the world of information systems.  There has also been growth in the job functions and coverage the IT department is responsible to maintain as well as increased security demands to protect our patient's data.  The team serves over 500+ healthcare professionals and a virtual desktop infrastructure that serves the hospital as well as Phelps Medical Group, Family Medical Specialties, Specialty Clinics, Harlan County Health Systems, as well as Tri-Valley Health Systems.
They use technology to provide the best possible care to patients, and are always looking for ways to do more.  Staying on top of the latest tools and technologies means investing in upgrading when needed. 
One can count on continued change and developments in technology in the information technology world, but rest assured, the Phelps Memorial IT team will be ready.  They are prepared to provide service and new technologies that enable our healthcare professionals to provide the best care to the patients we serve and meet the needs of Team Phelps.